Swim Society Stories : A sit down with Refuge Charity
Montana sits down with Refuge's Director of communications and external relations, Lisa King.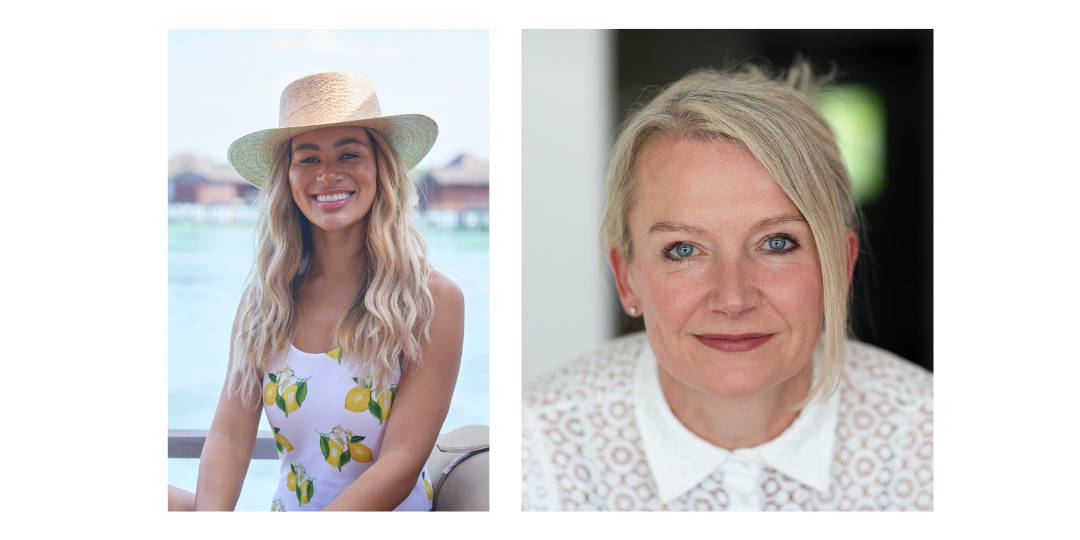 TRIGGER WARNING: This article discusses themes of domestic abuse, please read when it is safe to do so.
As a brand we really try to ensure we're talking about more than just our swimwear. At our heart we're three young women with our own views, experiences, and responsibilities and as such we know we have a duty to educate ourselves and the younger audience that follow our brand.  
Earlier this month, the team behind the government's #YouAreNotAlone public awareness campaign, which is supported by domestic abuse charities, reached out to us. They told us all about #AskForAni, a codeword scheme which is run in partnership with pharmacies across the UK (including Boots and Superdrug). The initiative allows those at risk or suffering from domestic abuse to go into a participating store (where the 'Ask for Ani' logo is displayed) and discreetly signal that they need help. 
The scheme was launched in response to the dramatic increase of calls to domestic abuse helpline services during the pandemic. So, we wanted to help in any way we could. Domestic abuse is the biggest issue facing women and children today and we all need to take notice. So, this week our founder Montana sat down (over zoom of course) with Refuge's Director of communications and external relations, Lisa King. Refuge is one of the charities supporting the #YouAreNotAlone awareness raising initiative, and they provide a range of life-saving and life-changing services – such as emergency temporary accommodation for women and children, community support and child services (amongst others). 
Lisa has been with Refuge for 18 years, after working at some of the major PR firms. After doing some pro-bono work for Refuge, Lisa learnt more about the staggering truth around domestic violence in the UK and vowed to do what she could do to try and protect these women and their families. And the rest is history!  
We wanted to allow Lisa to take our platform and use it to raise awareness not only about the incredible work Refuge do, but also about the signs of domestic abuse and how to help those in need. Here's everything we got into.  
Montana started off by asking a question we felt was really prominent in today's society, where we are all busy and distracted; How can we spot the signs that those we love or who we are close to might be suffering from domestic abuse?   
To this, Lisa raised a point that is so important to stress. Those experiencing domestic abuse, may not realise that this is what they are experiencing. We automatically associate domestic abuse with physical violence, but in actual fact it is much more than that and it can present itself in many different forms and severities. One key thing to draw on is this; "Am I changing my behaviour in any way out of fear of my partner's reaction?" If the answer to that is yes, then that is a form of domestic abuse. Now, we know those word sounds extremely 'harsh' but it's vital to know that often domestic abuse starts with smaller more 'insignificant' things which you may well brush off, such as your partner pressurising you to change your clothes, or starting to cut you off from seeing friends and family and / or constantly calling to check up on your whereabouts – these can all be early signs. Most domestic abuse gets worse and more frequent over time. 
A really important thread we had to discuss was that of education, with Montana asking Lisa whether education on what constitutes domestic abuse should be implemented across the board e.g. from schools and via brands. Naturally this is something Lisa feels strongly about with Refuge. "Often the behaviours we learn, come from our cultural experiences, society and our upbringing. Ensuring we educate everyone of all genders about domestic abuse, what's acceptable and what is not in relationships of any kind from primary school upwards, could truly help to reduce the prevalence of this issue in society." Alongside that, we posed the question of the responsibility brands like ours have in the conversation. "We should all be doing what we can to spread the message. The biggest way brands can make a difference is by sharing our message to their collective audience. Just like we're doing now. Not only does this allow us to gain more support to continue the work that Refuge do, but it also continues to highlight the issue in society" Lisa told us.  
She also shed some light on the increased figures that have been seen during the pandemic and whilst these were devasting, she did also acknowledge that the support and interest towards Refuge's work, as well as other domestic abuse charities, had seen great advancement. "Domestic abuse is ultimately about control, so in a lockdown situation those powers are escalated, and things can develop at a much faster rate. Most of us who were in lockdown with a partner found things difficult, but for lots of people, for the first time ever, they could identify with what it's like for women every day of the week who experience domestic abuse. Basically women live a life of lockdown – Covid or no Covid. Imagining someone with an abusive partner and being totally locked down really made people think about how they can help and do something." Lisa revealed to us.  
Montana was keen to discuss further the direct impact for female victims. With 1 in 4 women experiencing domestic abuse at some time in their lives, it was clear for us to understand further exactly why that happens. As natural nurturers, we as women can find ourselves excusing a lot of potentially harmful behaviour. Lisa, totally agreed with the sentiment and helped us to fully understand how complex domestic abuse situations can become; "Abusers often start out extremely charming and charismatic, victims often experience 'love-bombing' and naturally this seems 'too good to be true.' As the relationship becomes more formal, so things like moving in, pregnancy, financial agreements, the power and control can begin to manifest in other ways. This is when behaviours can change, but often victims find it difficult to separate the differences in behaviour. It takes an average of 7 times of attempting to leave a partner before a victim succeeds, so we should always provide support to those we feel may be in this type of situation. Ultimately if you're fearful of your partner and changing your behaviour based on this, you're likely to be experiencing abuse".  
The stats we heard during this interview, truly shocked us all and it really shone a light on how prevalent and deep rooted this issue is in our society. So, where do we go from here? Of course, Refuge is a charity and is always grateful for donations to help the women and children in the UK they are supporting. However, those of you reading this may not be in a position to offer a donation, or may feel compelled to do more. Montana wanted to know exactly what we can do in this situation.  
"Share, like and follow on social media @RefugeCharity. Spreading our message is one easy step everyone can take to raise awareness of the issue and the work we do. Or, support our campaigns for example send letters to our policy makers, ask for change." Lisa told us about a campaign she had worked on recently whereby Refuge campaigned to amend laws regarding online imagery, making it now illegal for someone to threaten to share illicit imagery of someone else. 
We want to sincerely thank Lisa for sitting down with us. Honestly, we did not expect to hear the things we did, the statistics are beyond shocking and frankly we feel ignorant for not knowing them sooner. Did you know two women are killed by a current or former partner in England and Wales every week? Every week. Police receive a domestic abuse related call every 30 seconds.  
Hopefully this blog will help share an important message, push you to spread the word and ultimately help anyone out there who may need help.  
Visit

www.refuge.org.uk

and

www.nationaldahelpline.org.uk

(live chat support Monday-Friday 3-10pm)

 

Call 999 and ask for the police if you are experiencing domestic abuse and are in immediate danger

 

If unable to talk and calling 999 from a mobile, you can dial 999 and press 55 when prompted by the operator – this will ensure you are connected to the relevant police force.

 

If you need a safe space, or access to support services, look out for the 'Ask for ANI' or 'Safe Space' logo in participating pharmacies

 

To support Refuge visit

www.refuge.org.uk

or simply follow us on our social channels @RefugeCharity and help spread and share how to access support – it might just save a life

 
Thank you Lisa and Refuge for educating us.